About Us
TechPlasty has been offering its services to customers since 1993.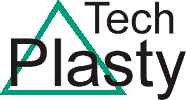 The core of TechPlasty's business are:
     the sale of semi-finished engineering plastics
     the manufacture and sale of machine parts according to the catalog
     manufacturing the custom-made parts
In addition to its own products, TechPlasty supplies products from the following companies:
     The world's largest producers of engineering plastics, boards, rods, tubes, tapes, foils, blanks, finished products
     Rexnord, plastic and metal pad chains, modular and flexible chains, conveyor parts, bases, bearing housings, plastic and metal pad chains, modular and flexible chains
     Esbelt Spain, conveyor belts
     Always England, ball transfer units
TechPlasty's headquarters are in ŽSlovak Republic. The company employs experienced engineers and designers able to deal with the customer's technical staff technological problems on their lines directly during production and propose solutions using parts supplied and manufactured by us. In addition to standard parts supplied under catalogs, we produce machined machine parts from plastics, also according to the samples, customer's drawings, or our own drawings.
Our customers are companies in Europe from all industries (food, engineering, automotive, construction, wood processing and furniture manufacturing, chemical, textile, etc.).